Pressure regulators are self contained devices that are often defined by their application. Hence similar regulators are described as Instrument or Analyser or High/Low Pressure.
Whether the regulator is a liquid or gas regulator they all work in the same way. Porting may be different. Sizing is of course different with flow being constrained by the physical size of the regulator and it's flow configuration.
Downstream pressure regulation is required for most applications with the pressure being sensed within the outlet port. Sometimes the application may deem remote sensing is required. This feature is available with some regulators. Upstream pressure regulation is available with the regulator then being described as a back-pressure regulator.
Expectations of performance are constrained by: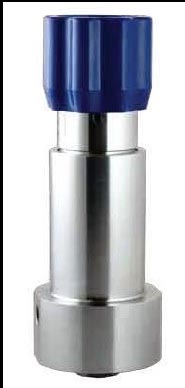 The size and type of diaphragm or piston -the measuring element.
The spring – the controlling element.
High pressure outlet expectations will compromise outlet pressure sensitivity.
Available materials of construction will limit the types of fluid or gasses that can be controlled as well as the operating temperature.
In addition to sizing, for regulators taking larger pressure cuts, temperature drops due to the Joule-Thompson effect may create a problem. This can be addressed by using a heated regulator or a heated manifold on the outlet.
For regulators providing analysis samples with high pressure drops, a pipeline insertion type is the best. It is advisable to have wave frequency and bending moment calculations performed on insertion regulators. In addition, temperature calculations are able to be provided by Haldatec
Haldatec can offer a wide range of regulators that are normally stainless steel construction, either diaphragm or piston operated, which allows them to accommodate a wide range of inlet and outlet pressures up to high pressure hydraulic regulators with special application for water glycol duty. The insertion and automatic insertion regulators are used by all leading analyser suppliers for sampling and on-line analyser systems.

Probe
Primarily intended for use with analysers our range of probe regulators take the pressure drop in the line minimising or eliminating the Joule-Thompson effect. This is further enhanced by the probe tip
being fully exposed and not shrouded, maximising heat transfer conduction. The Probe Regulators have the same construction options as the Instrument regulators plus additional liquid eliminating devices found in the Analyser Conditioning section, giving these regulators more options than any other in liquid entertainment elimination, whilst maximising the gas constituents essential for effective analysis.